NZ Tree Register Lockdown Quiz Series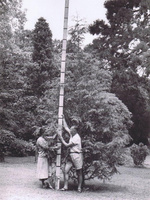 Going a little stir-crazy during the COVID-19 lock-down and need a little tree fix? Enter our NZTR Quiz and you will be in to win a 1985 second hand copy of S.W. Burstall & E.V Sale's classic 'Great Trees of New Zealand' (out of print and very collectable).

There will be 4 Quizzes of 10 questions over the next 4 weeks. Simply cut-and-paste each questionnaire and email your answers to notabletrees@rnzih.org.nz

First correct answer gets 5 points, next 9 correct answers get 2 points. ALL ENTRIES get 1 point. Open to subscribers to NZ Notable Trees Trust, NZ Arb and RNZIH members, although NZ residents only (winner is to provide NZ postal address for prize).

Answers to each quiz will be posted after the close of each quiz. ALL answers to each of the questions can be found on the NZ Notable Trees Trust website or NZ Tree Register .

NZTR QUIZ #1 CLOSES - 7pm MONDAY 6 April

Cut and paste each questionnaire and send with your answers to notabletrees@rnzih.org.nz

All questions to Quiz #1 relate to DAWN REDWOOD trees recorded on the NZ Tree Register (NZTR) or information on the Notable Trees Website

1) What is the height of the tallest currently recorded tree in NZ?

2) Where is the tree in question 1 above located?

3) In what region/s is the current National Champion located? (note: there can be more than one!) Read how champion trees are determined

4) Who cultivated the first dawn redwoods in NZ?

5) In what year was it cultivated?

6) What is the NZTR number of the largest (girth) tree in NZ?

7) Who planted the two trees in Christchurch Botanic Garden?

8) What is the total number of dawn redwood records in the NZTR?

9) What is the name of the organisation where the tree in the black and white image at this link was planted?

10) How do you the spell the botanical name of dawn redwood?

Good Luck!