The New Zealand Notable Trees Trust (NZNTT)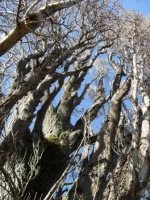 Pioneering work on documenting the notable tree heritage of New Zealand was carried out by Dr. H. H. Allan (1940), and later, by Bob Burstall NZFS, who for more than 30 years surveyed the country to locate and catalogue many of our fine trees.
In 1977/1978 the Royal New Zealand Institute of Horticulture (RNZIH) established a national register of notable trees for the purpose of cataloguing and registering New Zealand's tree heritage. For more than 25 years, the late Ron Flook of Nelson played a significant role in managing this scheme.
In 2004, in conjunction with website developer Kieren Simon, the first Notable Trees New Zealand database was launched online to allow public access and wider recognition of New Zealand's tree heritage. Unfortunately, Ron passed away in 2006 and the associated database became unavailable soon afterwards.
In 2007/2008, the RNZIH in association with the New Zealand Arboricultural Association (NZArb) established a new charitable trust called the New Zealand Notable Trees Trust (NZNTT). This Trust was established to continue this important work.
Board Members
Brad Cadwallader - Nelson
Penny Cliffin - Auckland
James Jones - Wellington
Bruce MacDonald - New Plymouth