December 2013 Update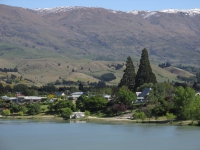 End of year greetings to all you tree enthusiasts out there.

Yes, it's that time again already – and so, before we all head off into the summer sunshine, here are a few items of interest to update you on progress with the New Zealand Tree Register.
New and Updated Tree Records
Some awesome new trees (60+ records since our last newsletter) have been added to the database. See:

A large number of new Sequoiadendron records from Otago have been added. Search for the genus and select the Otago region to see them all, including the largest exotic conifer in the country known as the Frankton Tree OR/1160. Check out the updated Mt Pisa tree OR/46, read the great story associated with this tree and see this 56 metre specimen in a stunning Central Otago setting. Other listings include the two 'Trees of Justice' in the CBD of Queenstown (OR/1166 & OR/1167) and two trees at St. Johns Presbyterian Church, Arrowtown (OR/1183 & OR/1184). See also:

Tilia x europaea, European lime at Lake Hayes – was considered to be the tallest specimen in NZ but............, OR/1171.
Cedrus libani, cedar of Lebanon – Tallest and largest recorded at Thurlby Domain near Arrowtown: OR/1164.
Pinus radiata, Monterey pine – known as 'The Wooing Tree', at Cromwell: OR/1163.
Pinus ponderosa, ponderosa pine – a good tree at Queenstown Gardens: OR/1180

The new records for Raoul Island are our farthest flung, offshore island trees. These include a 50 metre Norfolk Island pine AR/1120 and a monstrous Kermadec pohutukawa AR/1152 and five-finger AR/1144.

Whilst you may not be passing by Raoul Island on your holiday travels this season, if you're out and about the country, then check out these and other listed trees for yourself … and remember to take a tape measure so that you can add some new records into the register too!

Sixteen trees at the former Government House in Auckland have been added. See Group listing AR/1141 or search 14 Glenfell Place, Auckland and click to see them all on a map. A big thanks to Russell VanWijngaarden

To view other updates on the NZTR go to the 'Recent Changes' page or search the full register and go the last listings.
Queenstown Conference 2013
For those of you that made it to the NZ Arb conference you will know what a fantastic success it was. The Trustees wish to thank the speakers that gave presentations during the Notable Trees stream, they include; Sharon Lilly - ISA, Adrian Lamont – Auckland Council and Cheryl Prew – Soil Foodweb Institute.

A special thank you to Will Koomijian and Shane Blacktopp from Ascending the Giants for presenting the 4th Annual Tane Mahuta Lecture 'Climbing & Documenting the Tree Giants of the Pacific Northwest'.

Over $2200 was raised at this year's NZNTT Auction at the conference dinner and awards. Congratulations go to Stacy Colyer, Terry Flanagan and David James for their successful bids and donations. A heartfelt thank you to Cindy Flook for her very generous gift of original art work which was, undoubtedly, the highlight of the auction.

Reminders and Updates
Some interesting things to think about and get involved in:
'Trees of Honour' Project
This initiative encourages communities around New Zealand to record trees that have been planted to commemorate our service men and women over the years. If you know of a 'Tree or Avenue of Honour' in your local community why not create an enduring record of the tree on the Register and share the story of commemoration with a wider audience. With the Centenary of ANZAC, the Gallipoli Landings and World War I being commemorated in 2015 NZNTT we would like to focus on tree plantings that took place to honour those involved with these events, whilst also encouraging the listing of any commemorative tree. Read the 'How To' notes on the website for instructions on listing trees.

See latest listings ANZAC Park, Nelson NR/1091 and The 'Riversdale Avenue of Honour' SR/1182 and one of the trees in that avenue SR/1191
Bunya Bunya Tree Hunt
The number of bunya bunya records on the NZTR now stands at 31. We're looking for more of these prominent specimens – so please consider adding new records of this tree. The latest is an old tree located at the former Bishop's residence near Nelson NNR/1142. Do you know of a bunya bunya that is not listed on the NZTR? If so, could you take the time to measure, photograph and create a permanent record of it online?
Sponsors
As always, the Trustee's wish to offer their continued thanks to our Annual Supporters and Region Sponsors for their financial assistance of the NZNTT's activities. See the current NZNTT Sponsors List – and please contact us for more information if your organisation would like to become a sponsor – your support is greatly appreciated.

Need a copy of the Standard Tree Evaluation Method - STEM™? You can obtain a copy from Touchwood Books or by contacting the Trust.

Kind regards and best wishes for the holiday season,

The Notable Trees Team
www.notabletrees.org.nz