September 2012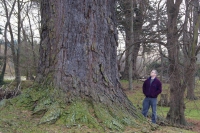 Greetings tree aficionado's

It has been a while since our last update. New entries on the New Zealand Tree Register (NZTR) have been slow but steady over the past four months but there are several highlights to bring to your attention.

The largest known hoop pine in New Zealand located in Auckland, record 992.
The monstrous 1860 'Grey Pine' near Geraldine, record 1008.
Two very big totara at Mt. Peel Forest Park. 'Mills Totara', record 1009 and the Dennistoun tree, record 1010 .
Use the tree search to check out the current dawn redwood listings to see two very big recent discoveries near the top of the table (Auckland and Blenheim).
Two Royal trees at Government House in Wellington. Planted in 1954 by Queen Elizabeth II and the Duke of Edinburgh, record 1016.
The Trustees are pleased to welcome the
New Zealand Recreation Association
(NZRA) as a new Annual Supporter of the Trust. View the complete
NZNTT Sponsors List
here.
Remember, you can add a tree at anytime and for any reason to the New Zealand Tree Register. Just log in and get cracking!
Kind regards,
The Notable Trees Team.
www.notabletrees.org.nz