7th Annual Tāne Mahuta Public Lecture - 3rd November 2016, Auckland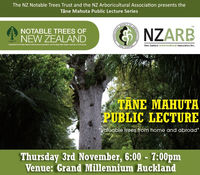 The NZ Notable Trees Trust in conjuction with the NZ Arboricultural Association are pleased announce this year's Tāne Mahuta Public Lecture.

This seventh lecture, in an ongoing series, will be presented by Mike Wilcox. This lecture will concentrate on some trees that he has worked with one way or another during his time in forestry, including urban forestry. Several of the trees to be mentioned have helped shape New Zealand and others have featured in Mike's overseas work.

The lecture series is open to the public – Gold coin donation with proceeds to the activities of the New Zealand Tree Register. Go here for full details.